Moderator: phpBB2 - Administrators
Posts: 780
Joined: Wed Apr 14, 2004 1:59 pm
Location: In front of the computer
so im not all that educated when it comes to the mechanics of electronics. i just know to connect 2 wires and a switch and it should work right?

i recently installed an electric fan out of some other model vehicle, not sure what one. i have it all mounted up, wired the negative wire to the dash on a switch and back to the battery, and ran the positive through a fuse and right to the battery.

heres my problem. im not sure if the fan is drawing too much juice or i just have it all wrong. its melting wires and the other day i had the fan running for over 5 minutes in one stretch and i pulled in the driveway and the switch wouldnt turn the thing off. it had melted the switch and fused it in the on position permanently. so i had to disconnect it from the battery.

what could be causing the wires and switch to get so hot? do i need to use bigger wires? i guess i got lucky, i dont want this to burn my rig to the ground.
---
Forum Moderator
Posts: 1605
Joined: Wed Jan 07, 2004 8:22 pm
Location: 1550 miles East of Moab
Mechanics of electronics?
It sounds like the fan is pulling too many amps. What gauge wire are you using and how big is the fuse? It's surprising that it would melt the wires and the switch before blowing the fuse. It is a used fan? May have some kind of internal short causing it to draw too many amps.
---
Posts: 392
Joined: Thu Jan 15, 2004 12:56 pm
Location: Batavia, OH
Eddie,
You are definitely pulling way too many amps for your switch. You need to wire in a relay. The relay used in conjunction with an appropriately gauged wire will keep the Jeep from burning down.
Here is a good link that explains relays:
http://www.the12volt.com/relays/relays.asp
How to choose size for wire:
http://www.offroaders.com/tech/12-volt- ... e-amps.htm
Fan wiring diagram: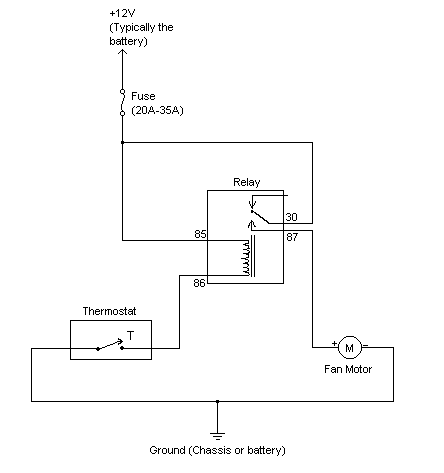 ---
Posts: 392
Joined: Thu Jan 15, 2004 12:56 pm
Location: Batavia, OH
If you replace the thermostat in the above diagram with a switch, your fan will be manual in operation.
---
Who is online
Users browsing this forum: No registered users and 3 guests